The Verbotonal Method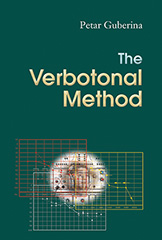 The Verbotonal Method brings the most important writings of Petar Guberina, who founded the method in the 1950's and went on to develop it as a successful hearing and speech rehabilitation method worldwide. Many of the current rehabilitation methods, as well as methods of foreign language learning, stem from Guberina's ideas and research.
Petar Guberina worked extensively on discovering the laws of structural functioning of the human mind in verbal communication – one of the fundamental tenets of humanity. With his interdisciplinary approach he tackled the basic linguistic and phonetic ideas of the speech phenomenon from the biomedical, physiological, and neurological aspects. This, together with his insight into the semiotic layers of the speech sign, enabled his thorough understanding of meaning based on rhythm, intonation, sound, and movement. He also researched different ways in which speech process is carried out. These postulates led to Guberina's two main implementations of the verbotonal system theory, which gained both academic recognition and acceptance in the practical field: speech and hearing rehabilitation, and foreign language learning.
In his work that spanned six decades Guberina introduced innovations to speech and hearing rehabilitation. He developed structured and detailed methods, and designed new instruments to help achieve optimum results. He also developed new concepts, such as "optimals", "hearing transfer", "auditory field", "systematic mistakes", "discontinued listening", "spacioception", "verbotonal audiometry", "speech parametre", etc. Petar Guberina was the founder of the SUVAG Polyclinic in Zagreb, which became one of the leading hearing and speech rehabilitation institutions in the world, and an international training centre for therapists and educators.
Guberina's verbotonal method has contributed immensely to the idea of integrating the hearing impaired persons into the society by helping them develop their language communication abilities and skills.
The book is divided into 27 chapters. One article was co-authored with Jugoslav Gospodnetić, and one with Mirjana Simić. The book was edited by Guberina's long time associate Professor Claude Roberge of the Sophia University in Tokyo. He also wrote an introduction, while the closing chapter was written by Professor Mihovil Pansini of the Faculty of Philosophy in Zagreb.
For the Table of Contents please click here.
The book is recommended to the following readership:
scholars and advanced students in the fields of linguistics, phonetics, psycholinguistics, cognitive linguistics, and neurolinguistics
researchers of hearing/speech disorders and rehabilitation methods
therapists and educators working with persons with hearing and speech disorders
This collection of Guberina's writings has also been published in French and Croatian.