Lexicon Latino-Illyricum

Volumes I–III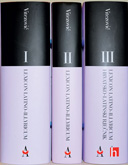 Edited by: Bojan Marotti
Series: Croatian Heritage Revived
Code: 01007
Pages: 3124
Dimensions: 24,5 x 18 cm
Format: hardcover, dust jacket
Year: 2010
ISBN: 953-6522-20-9
ISBN-13: 978-953-6522-20-0
Price: 2.185,00 kn (290,00 €) 1.700,00 kn (225,63 €)


Naruči
Croatian works of lexicography prior to the Croatian national revival (the Illyrian Movement) can be tentatively divided into two groups: published and unpublished dictionaries. Among the five large unpublished dictionaries—all of which were written within the span of some 150 years (between the mid-17th century and the beginning of the 19th century)—is the manuscript Latin-Croatian dictionary by Pavao Ritter Vitezović (1652–1713). In an attempt to institute a unified standard language for all Croats, Vitezović spent years compiling his Lexicon Latino-Illyricum. For the title, he used one of the historic names for the Croats and their language.
The two volume Croatian-Latin part of the dictionary, unfortunately, has been lost; the Latin-Croatian part, written at the turn of the 18th century, is held by the Metropolitana Library in Zagreb. Our edition of Vitezović's Lexicon consists of three volumes: a facsimile of the Latin-Croatian manuscript dictionary; a transcribed and critically edited first printing of the dictionary; and a reversed and critically edited Croatian-Latin dictionary.
Volume I
This facsimile of the handwritten dictionary includes an afterword by editor Bojan Marotti that describes in detail the preserved manuscript and lists the steps taken in the editorial process of preparing the dictionary for publication. The facsimile volume enables users to consult the manuscript without touching the original, which because of its fragile condition can be viewed only with special permission and with the use of gloves.
Volume II
The second volume represents the first printed edition of Vitezović's Lexicon. The manuscript dictionary was critically read and transcribed by Zrnka Meštrović and Nada Vajs. The transcription was edited and emended by Bojan Marotti, with maximum critical rigour. Thus, the printed dictionary contains everything written by Vitezović, while any departure from the original is clearly marked as an editor's emendation. All emendations are listed and explained in full detail in the editor's introduction.
Volume III
This volume is Vitezović's Latin-Croatian dictionary in reverse. It thus restores to Croatian culture his lost Croatian-Latin dictionary. The reverse dictionary, with full critical apparatus, was compiled by Nada Vajs and Zrnka Meštrović. Their introduction explains the principles and methodology of the reversal process.
This volume is published in cooperation with the Institute for Croatian Language and Linguistics.