Lexicon Latino-Illyricum III.

Volume III, Croatian-Latin Dictionary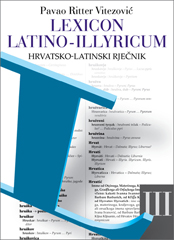 Volume III is a reverse dictionary (Croatian-Latin) based on the critically edited first printing of Vitezović's original Lexicon Latino-Illyricum. It was compiled by Nada Vajs and Zrnka Meštrović, who include an introduction explaining the principles and methodology of the reversal process.
This dictionary helps us answer two questions: What was Vitezović's lost Croatian-Latin dictionary like? And what was the Croatian language like at the beginning of the 18th century, seen through the eyes of a lexicographer who envisioned Croatian linguistic unity—and therefore national unity? Vitezović's dictionary uses all three Croatian dialects (štokavian, čakavian, and kajkavian). The corpus draws from the literary and scholarly traditions and includes vernaculars to the extent of Vitezović's knowledge of them.
More than 34,000 Croatian words appear in the reverse dictionary. Each entry includes a complete list of the word's corroborated uses in the dictionary: in its real lexical context, in collocations, and in phrases. Homonym entries are numbered. Prepositional or terminological collocations, and compound words appear as separate entries.
This volume restores to Croatian culture Vitezović's lost Croatian-Latin dictionary and makes it available for research on various aspects of Croatia's cultural and linguistic history.